Home Page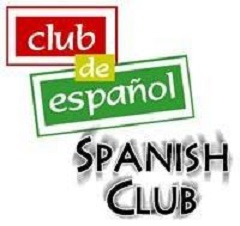 Club Advisor: Judith Hernandez
The Spanish Club is an environment inside and outside of the classroom where those who have a passion for Spanish-speaking culture can get together, participate in activities, donate to the community, practice their Spanish speaking skills and meet other like-minded students.
2018-2019 Spanish Club Officers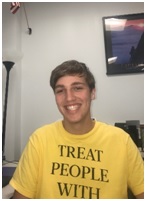 President
I am Joshua Adrian, the 2018-2019 Spanish Club President. I am responsible for conducting the club's meetings, making decisions with my fellow officers, and appointing officers and/or members to accomplish specific tasks regarding the club. So far this school year, we have done a community outreach project with Project Elf, and we plan on doing another one in the spring. As president, I want the club to be involved in the community and helpful towards one another.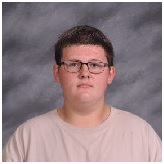 Vice-President
My name is Austin James. I enjoy being the Spanish Club Vice-President because I love to help people.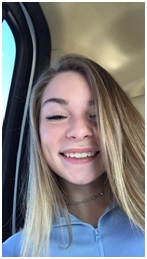 Secretary
My name is Kennedi Christian. I am apart of the graduating class of 2021. This is my first year of being in Spanish Club, and I have the honor of being the club's secretary. My job is to take attendance for club meetings, help retain information to members that do not attend a particular meeting, and write letters for parents. I joined Spanish Club to be more involved with my school and community. I am also apart of Lady Eagles varsity softball team. Outside of school I play on a travel softball team. My goal for the club this year is to help and give back to our community. I am very excited for what this school year brings us!!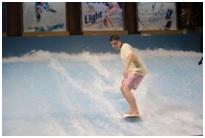 Photographer
My name is Seth Ketterling and I have been given the honor as Spanish Club photographer. I am beyond grateful to have been given the opportunity to be able to capture the vision and momentos of our 2018-2019 Spanish Club year as a familia. As club photographer, I am in charge of photographing pictures from every event and charity we help participate in and write an article to send into the Claremore Progress for the newspaper. Events and charities include, Pennies for Pasta, collecting shoes and socks for homeless, and fundraising during our school carnival. I am patiently anticipating every upcoming event so that I will have the opportunity to share it with you and the rest of our town.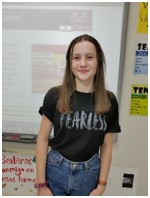 Advertisement and Propaganda
I am Sulamita Matveyuk, part of the 2018-2019 Advertising and Propaganda team in the Spanish Club. One of the main priorities of the Advertising and Propaganda team is to publicize what goes on in the club, as well as informing the school community about donations and fundraisers that we are going to partake in. I am glad to be a part of the club and the team this year. We have a number of goals we would like to accomplish in the 2019 year. We would like to make everyone in the club feel welcomed and have everyone be included. Last but not least, encourage the school community to reach out, help and donate supplies.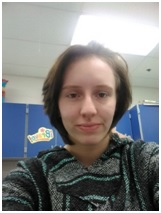 Advertisement and Propaganda
My name is Nicole, and I'm a freshman. I'm one of the advertisement and propaganda officers for Spanish Club, which means I make posters and advertisement for projects we might be doing. I like comics, painting, writing, listening to surf rock, learning about culture and teaching myself songs on the acoustic guitar. I like going to school events; I have a lot of school spirit, especially around football season."