High School Principal's Message
Dear Parents,

It has been a very busy beginning to the school year for 2021/2022. Our fall sports have done a tremendous job representing our school district and community and have won several team and individual awards. Our FFA students have represented our district very well competing at the Rogers County and Tulsa State fair bringing home several honors and awards. All sophomores have visited both Pryor and Claremore vocational trade centers for those wanting to learn a skilled trade beyond high school. Our seniors attended the College Fair put on by Rogers State University and received information from area colleges. Our Juniors and Seniors will also be able to visit the Tulsa Port of Catoosa to get a first hand look at all the job opportunities/careers that they offer in our area. The school wide carnival was again a great success thanks to all the parents and teachers for their hard work and dedication.

Parents please take advantage of the opportunity to monitor your child's grades and attendance through our student grade book program. There will always be a direct correlation between poor grades and poor attendance in the classroom. You may contact Jackie Francis at the High School to get access to your password. If at any time you have any questions or concerns please feel free to contact us at the High School 918-341-0642. Seniors and Senior parents stay on top of scholarship and scholarship due dates. Seniors please make sure that you are checking your emails for graduation updates as well as any other important senior information that comes up.

It's never too early to start planning and preparing for the ACT test. Students make sure that you check with the High School counselor when the national ACT test dates are. All Juniors will have a state test date that they will take the ACT.

As we are still coping with the pandemic we at Sequoyah are doing everything we can to ensure the safety of all our students and staff members. It is important that we all adhere to the 3 Pillars of protection as we strive to teach our students. The 3 Pillars are Limiting Exposure, Sanitizing, and Physical Distancing. If we can stick to these 3 Pillars the chances of having a successful year go way up. It is also important that we perform the Eagle Pledge Health Screening Checklist everyday before sending your child to school. Parents should check for the following symptoms.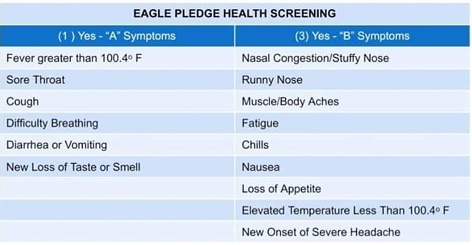 IMPORTANT DATES TO REMEMBER 2021/2022
November 24th - 26th Thanksgiving Break
December 17th End of 1st Semester
December 20th - January 3rd Winter Break
January 4th Classes Resume
January 17th MLK Day No School
February 10th and 17th Parent/Teacher Conferences
February 18th No School
February 21st Presidents Day No School
March 14t - 18th Spring Break No School
April 15th Good Friday No School
May 15th Graduation
May 17th Last Day of School
It's A Great Day To Be An Eagle!
Mr. Osburn
High School Principal