Elementary Principal's Message
Important dates:
2nd Nine Weeks/1st Semester report cards will go home on January 14th.
February 10 and 17 Parent-Teacher Conferences
There will be no school on the following days in January and February:
January 17th ­­ Martin Luther King Day
February 18th Due to P/T evening conferences on Feb. 10 and 17
February 21st President's Day
Click on the Eagles News Letter
Welcome back, and happy 2022! It's great to be back with the students, and I just wanted to update you with some essential information happening at Sequoyah Upper Elementary.
Elementary Yearbooks go on sale starting January 11th and will end on January 27th. You will receive information and a form on January 11th. If you would like to purchase a yearbook for your child, please fill out the information and return it with a check to your child's teacher no later than the 27th. The yearbook cost is $22.00. Unfortunately, we cannot extend the deadline for ordering, and no extra copies will be available for purchase.
Oklahoma weather seems to change daily. With the unpredictable weather and playground conditions, please make sure that your child(ren) is dressed for outside play. Thank you to all parents in advance for helping to ensure that your child(ren) has appropriate clothing as we do go outside during specials, recess, and lunch.
Please continue to keep in mind the importance of our 3 Pillars. We ask you to continue your commitment and participation in the 3 Eagle Pillars of Protection and the Eagle Pledge Health Screening. This year has been and will continue to be successful with the support of our community. Happy New Year!!!!!!!!
Eagle Protection Pillar 1- Limiting Exposure
Eagle Protection Pillar 2-Sanitizing
Eagle Protection Pillar 3-Physical Distance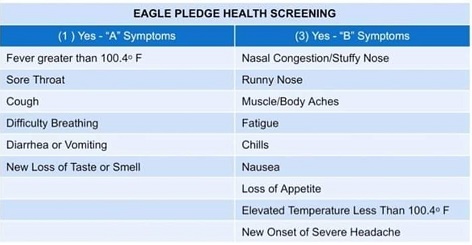 We will continue to overcome any challenges to serve our students and our community.
All transportation changes must be written on a note and given to your child's teacher, or you can call our receptionist, Michelle Trujillo, and she will notify the teacher. Please understand we cannot make changes any other way. Students are not allowed to inform their teacher of changes verbally. If you are calling to make a change, you must notify Mrs. Trujillo by 2:00 p.m.