Mid-High Principal's Message
Dear Parents,
Welcome back everyone. I hope that this finds you and your family doing well during this trying time in our nation's history as we continue to move forward during this pandemic. As we navigate through these trying times we at Sequoyah are doing everything we can to ensure the safety of all our students and staff members. It is vital that we all adhere to the 3 Pillars of protection as we strive to teach our students. The 3 Pillars are Limiting Exposure, Sanitizing, and Physical Distancing. If we can stick to these 3 Pillars the chances of having a successful year go way up. It is also important that we perform the Eagle Pledge Health Screening Checklist everyday before sending your child to school. Parents should check for the following symptoms.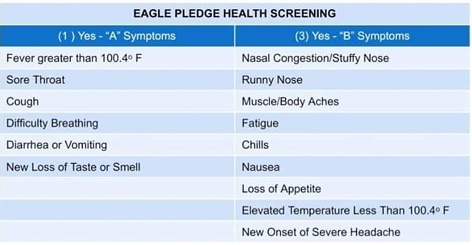 The beginning of school is a very busy time of year. Students are forced to change from their summer routines of staying up late and sleeping in which can sometimes make it a difficult transition for them when school starts. It is important for students to be proactive and manage their time wisely in order to keep from falling behind in their classes. Please reiterate to your child the importance of getting eight hours of sleep each night in order to be at their best. "You can't soar with the Eagles in the morning, if you're going to hoot with the Owls at night."
It's never too early to start planning and preparing for the ACT test. Students make sure that you check with the High School counselor when the national ACT test dates are. All Juniors will have a state test date that they will take the ACT.
Be sure to take advantage of the opportunity to monitor your child's grade and attendance through our student grade book system. Contact Jackie Francis, our school Librarian at the High School to access your password. If you have any questions, concerns, or need assistance contacting a teacher call the High School (918)-341-0642.
IMPORTANT DATES TO REMEMBER 2021/2022
August 12th First Day of School
September 6th Labor Day - No School
September 8th School Pictures
September 22nd Sports Pictures ( Volleyball, Softball, Cross Country)
September 27th Jostens Soph.Class Rings 8:30/ Seniors 9:30 Cap and Gown Announcements
September 30th Seniors 8:30 Jostens Orders Due/9:30 Soph Class ring orders due
October 11th &12th Parent Teacher Conference
October 13th - 15th Fall Break No School
October 19th Free ACT test for any 10th -12th Grade Student Sign up in High School office
October 20th - Picture Retakes/Senior Panel Picture Retakes
November 24th - 26th Thanksgiving Break
December 17th End of 1st Semester
December 20th - January 3rd Winter Break
January 4t Classes Resume
January 17th MLK Day No School
February 10th and 17th Parent/Teacher Conferences
February 18th No School
February 21st Presidents Day No School
March 14t - 18th Spring Break No School
April 15th Good Friday No School
May 15th Graduation
May 17th Last Day of School
It's A Great Day To Be An Eagle!
Mr. Osburn
High School Principal